COMPARATIVE ANALYSIS ON OWNERSHIP OF IMMOVABLE PROPERTY BY FOREIGNERS AND ITS IMPLICATION ON FDI: THE CASE OF ETHIOPIA AND KENYA'S LAND POLICY
Keywords:
Foreigners, Land ownership, Land Policy, FDI, Ethiopia, Kenya
Abstract
Land is a highly prized property in most African states, and it is governed by a complex set of rules and ceremonies. Many African countries have diverse property ownership arrangements for their lands. The modalities of ownership arrangements range from freehold to customary or state ownership. It is witnessed that many African countries, except for a few have one common salient feature regarding land ownership; that is, land is technically under the ownership of the states However, foreigners' ownership of land is banned in many African states, with the rationale that the restriction is in place to defend sovereignty and national resources. This commentary delves into the substantive content of the land policies of Ethiopia and Kenya. particularly on the ownership of land by foreigners. Under this backdrop, it examines the implication of awarding ownership of land to foreigners on investment. Moreover, it provides legal options available for dealing with foreign ownership of land in Ethiopia through comparatively evaluating and reviewing the Kenyan land policies and relevant laws. Being awarded to foreigners, land ownership has the potential to benefit Ethiopia's economic development. However, it is required to restrict the adverse effects that it entails. On the contrary, Ethiopian land ownership policy is rigid and strict. This has substantially affected the economic gains from foreign investors and the positive output they could generate in employment opportunities and technology transfer. As to this end, Ethiopian law makers might re-consider amending the land policy including the FDRE constitution by revisiting the stumbles in the legal regimes, with the aim to retain foreign investors.  Thus, this paper recommends the state to inculcate intermediate restriction on ownership of land and Kenyan land policies as springboard for reference.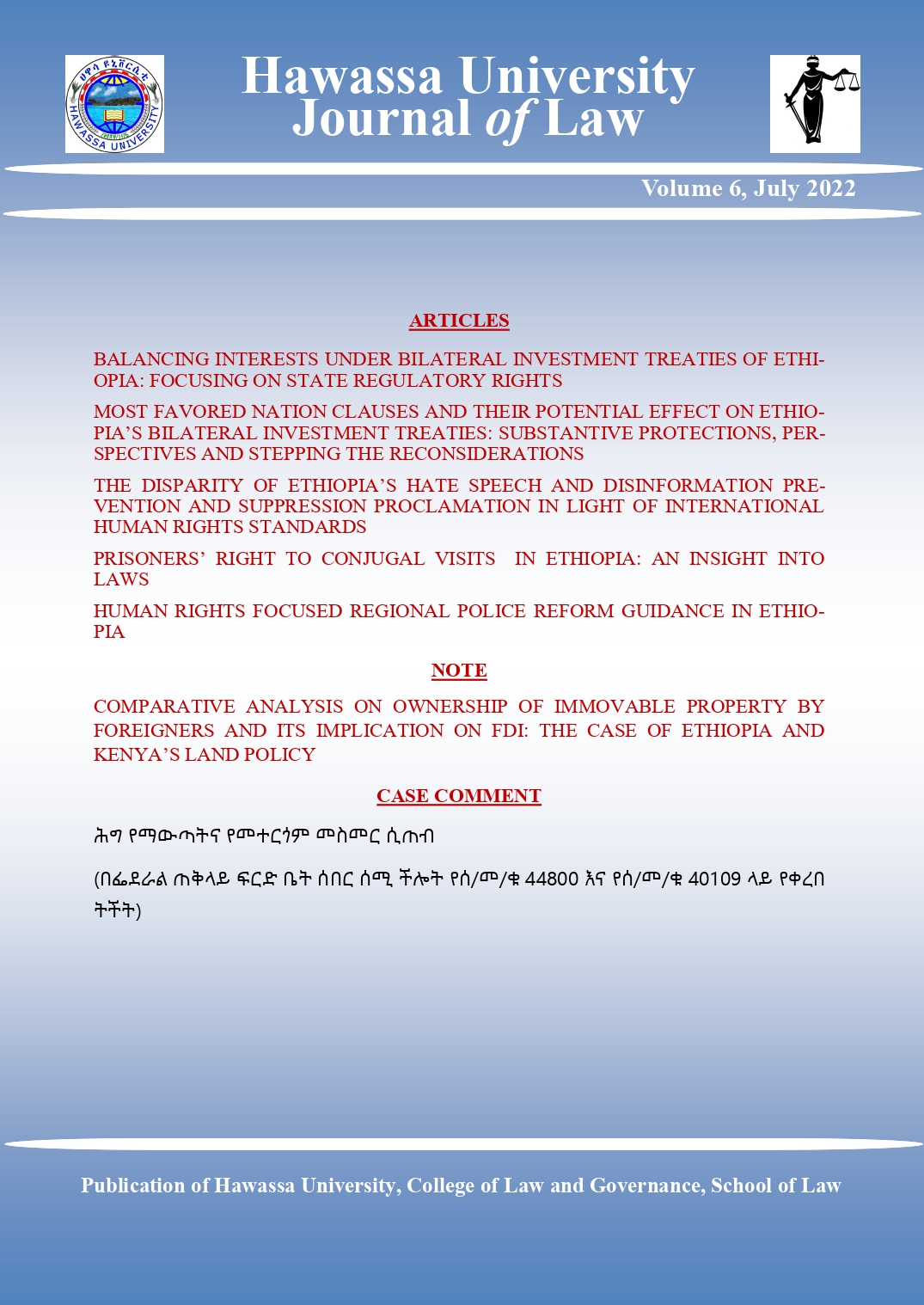 Additional Files
How to Cite
Tura, J. S. (2022). COMPARATIVE ANALYSIS ON OWNERSHIP OF IMMOVABLE PROPERTY BY FOREIGNERS AND ITS IMPLICATION ON FDI: THE CASE OF ETHIOPIA AND KENYA'S LAND POLICY. Hawassa University Journal of Law, 6. Retrieved from https://journals.hu.edu.et/hu-journals/index.php/hujl/article/view/681