Balancing Interests under Bilateral Investment Treaties of Ethiopia: Focusing on State Regulatory Rights
Keywords:
Bilateral Investment Treaties, Investor, Foreign Investment, Ethiopia
Abstract
Well-regulated foreign investment is an engine of economic growth. Hence, despite its negligible impact, investment treaties have been used as a tool for foreign investment attraction and protection. This resulted in one-sided regimes that protect investors at the expense of state legitimate regulatory rights. Following this, balancing the regulatory power of the state and the rights of investors is the central issue in the recent development of investment treaties. In Ethiopia, the impact of BITs on domestic regulatory space is under-researched. In this context, this article qualitatively assesses the status of Ethiopian BITs in balancing host state regulatory rights and investor rights. As the finding has revealed, despite the new global move toward a balanced approach, almost all BITs of Ethiopia are devoid of balancing the interest of states and investors because of its broadly crafted standard of protections, and definition of investment and investor as well as no or limited recognition for regulatory rights of the state. This has a huge practical impact on regulatory space and public interest thereof. Therefore, the author has called for reconsideration of investment treaties to widen the regulatory space of the state and to protect and promote public interests.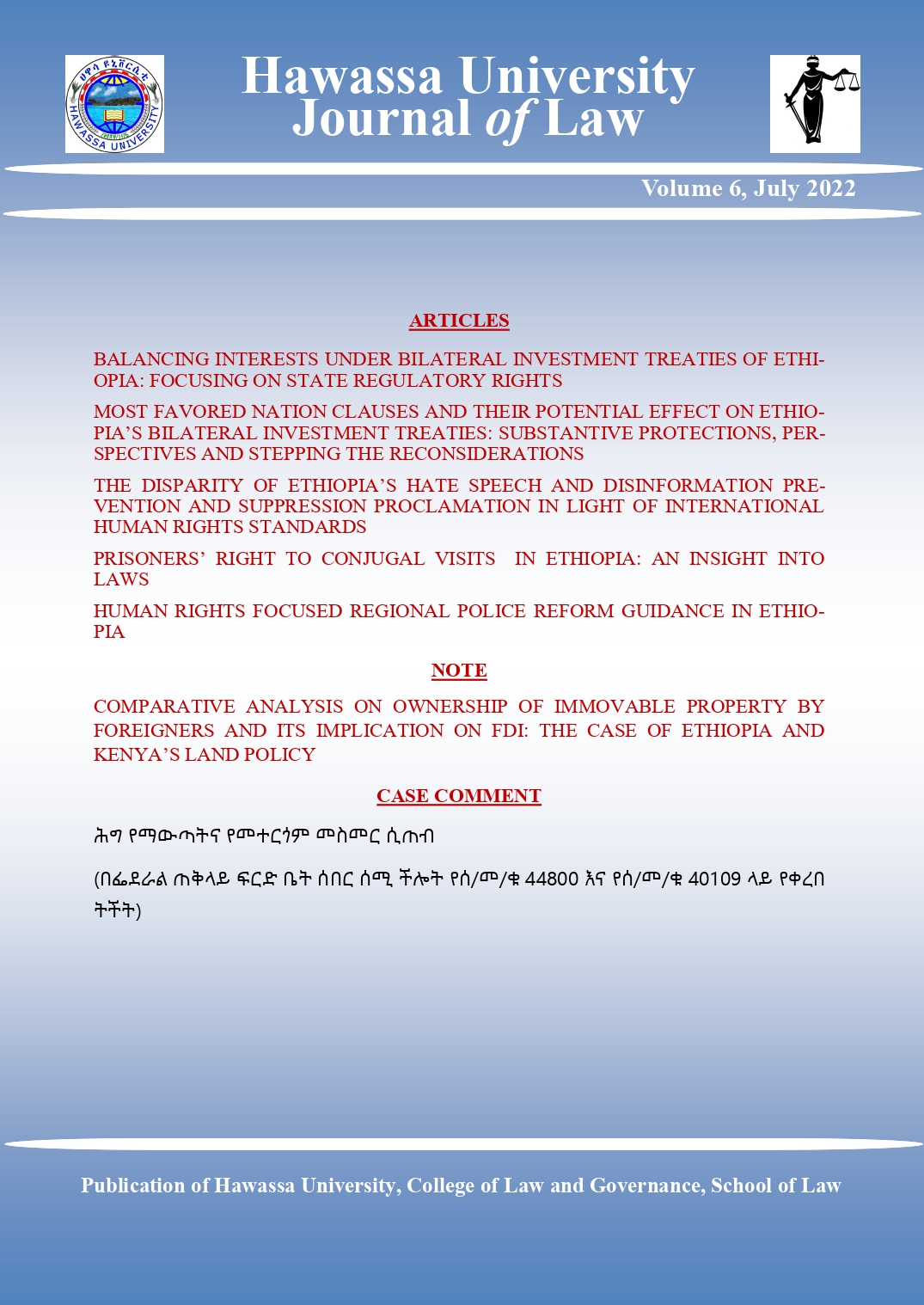 Downloads
How to Cite
Disassa, D. D. . (2022). Balancing Interests under Bilateral Investment Treaties of Ethiopia: Focusing on State Regulatory Rights. Hawassa University Journal of Law, 6. Retrieved from https://journals.hu.edu.et/hu-journals/index.php/hujl/article/view/676